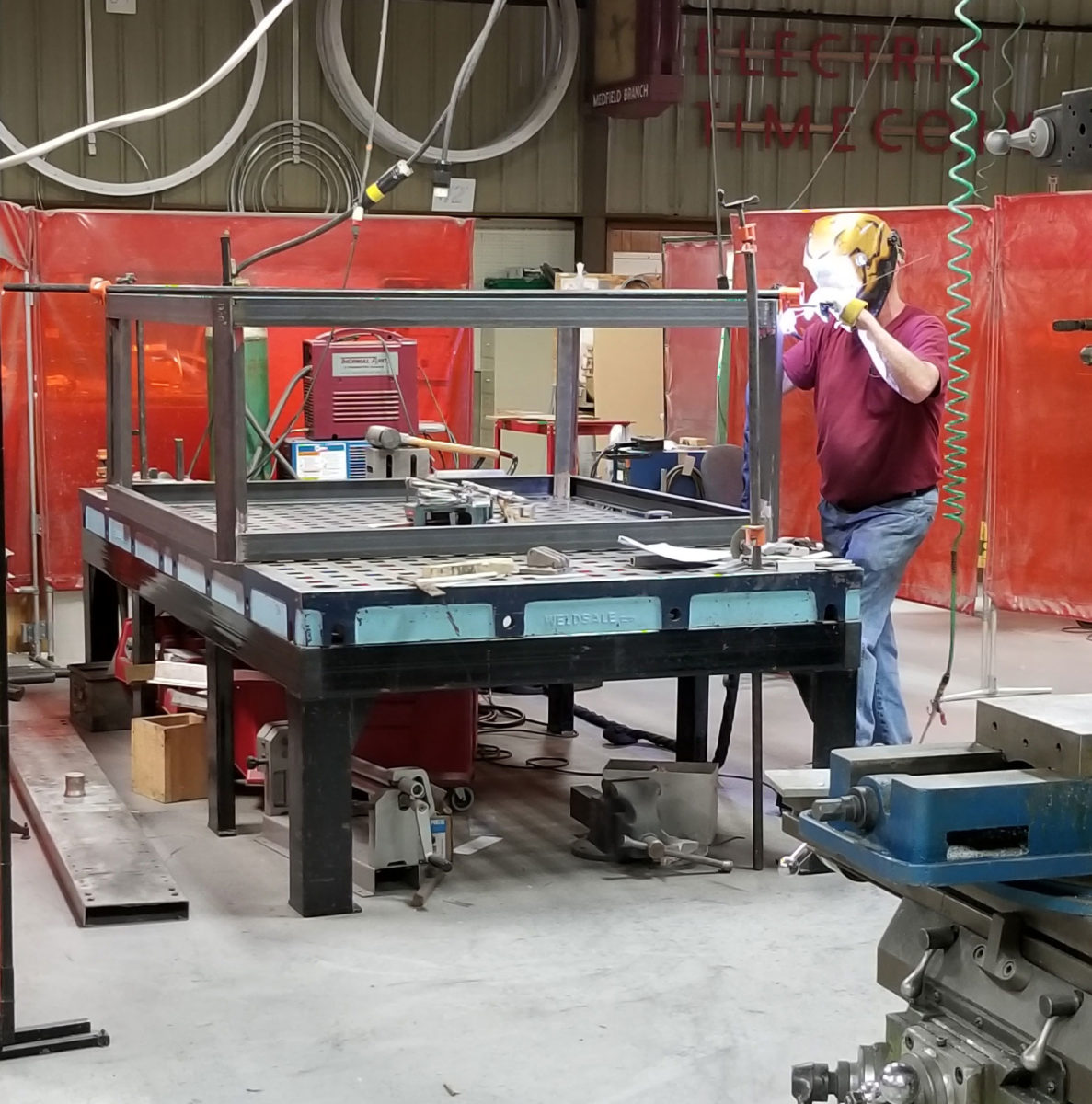 Our facility offers comprehensive capabilities for the fabrication, finishing, and assembly of steel, stainless steel, brass, and aluminum. Specializing in limited volume and prototyping fabrication, our services include:
Waterjet Cutting Machine: Equipped with a cutting envelop of 6′ x 12′ and a pressure of 55,000 PSI, capable of cutting materials ranging from foam to stone.
Routing Table: A spacious 10′ x 10′ table primarily used for cutting plastics.
Cincinnati Press Brake: Featuring a 175-ton capacity and a 10′ bed, with a diverse selection of punch and dies for various bending needs.
16-Gauge Rolling Machine: A 4′ roller designed for efficient rolling of materials.
Pem Insert Machine
Arbor Press
Orbital Staking Machine
Welding:

TIG Welding: Proficient in welding aluminum and stainless steel.
MIG Welding: Skilled in welding aluminum and stainless steel.

Painting Wet Spray Booths:

Small Booth: Measures 8′ x 15′ and equipped with baking capabilities.
Large Booth: Spacious 14′ x 25′ booth with baking capabilities.
Color Match System
Finishes tested to ASTM standards

Gold Leafing
Mechanical Metal Shear: A 6′ 6″ shear used for precise cutting of metal sheets.
Forklifts:

Yale Forklift: 5,000 lb capacity.
Yale Forklift: 12,000 lb capacity.

Electrical Mechanical Assembly: Skilled in performing electrical and mechanical assembly tasks.
Design Services: We provide 3D modeling and prototyping services to assist in the design phase of your projects.
Design and construction of custom crates for domestic use.
Revive historic ornamentation, whether it's electromechanical or purely decorative.
Stocking Materials:

Steel
Stainless steel
Brass
Aluminum
Email RFQ to [email protected] or fill out our on-line form.
To download our capabilities list in PDF format, please click here.