History – Tower and Street Clock manufacturer
Electric Time Company has been in continuous operation since the early 1900s. We are an offshoot of Telechron, the first self-starting synchronous electric clock company. Incorporated in the state of Massachusetts USA in 1928 we have grown to a firm that has over 10,000 tower clock and street clock installations on every continent, including Antarctica.
We were originally located in Boston Massachusetts and have continuously expanded since that first tiny office. In the 1930s we moved to South Natick Massachusetts, in 1951 to Natick Center, in 1986 to Medfield Massachusetts and in 2007 we relocated into our current 50,000 (4,645 m²) square foot tower clock manufacturer facility in Medfield Massachusetts.


Manufacturing
Our current facility allows us the space and resources to design, manufacture and support our products. Standard and custom tower and street clocks are designed by our full-time engineering department using state of the art 3D modeling software. We make our own clock movements – we properly design them to fit in the enclosure or surrounding structure. If the clock is lighted we make sure there are no shadows and the clock is evenly lighted with the correct color temperature. In the case of clock hands and structures, we perform FEA analysis (finite element analysis) on the design to be certain they will stand up to wind and environmental conditions.
After a product is designed it's typically sent to our 6′ x 12′ CNC controlled waterjet cutting machine – and then to fabrication in one of our multiple welding and fabrication stations. In addition to the work stations, we employ rolling machines, an 11′ x 11′ CNC router and a 175 Ton CNC controlled press brake for bending metal, to fabricate our clocks.
Electric Time has a complete metal finishing department – offering line & circle graining and polishing, on almost any metal. Our paint finishes are applied in environmentally controlled chambers and have been tested by a National Testing Lab for UV stability, abrasion and corrosion resistance.
We employ a variety of skilled artisans. We can provide clock dials made of glass, sculptures with or without animation, custom castings and artistic finishing.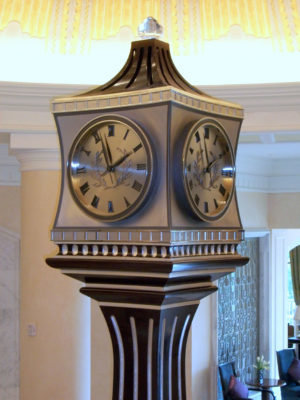 Clock movements are designed using 3D software and then manufactured by means of CNC controlled milling, pressing and automated staking machines. Standard clock movements are available for clock sizes from 12″ to 30′. Custom design capabilities are almost unlimited – we have made large thermometers, barometers, wind speed indicators, hygrometers, moon phase indicators, calendar indicators and linear time display devices.
Products are assembled by our skilled technicians, inspected by our quality department and then shipped in engineered crates to your project location. As required by electrical codes, OSHA and by most insurance companies, our products are listed for electrical safety under CUL (Canadian UL) UL and ETL.
Installation, service, and support are available worldwide. We keep meticulous records of your project – both electronic and paper. Unique to almost any industry, we can still repair any of our products, including those dating back to the 1920s.
Our dedicated and professional staff who have been with us on average over 15 years looks forward to assisting you on your next project.